What Do VCs Notice When You Pitch Them?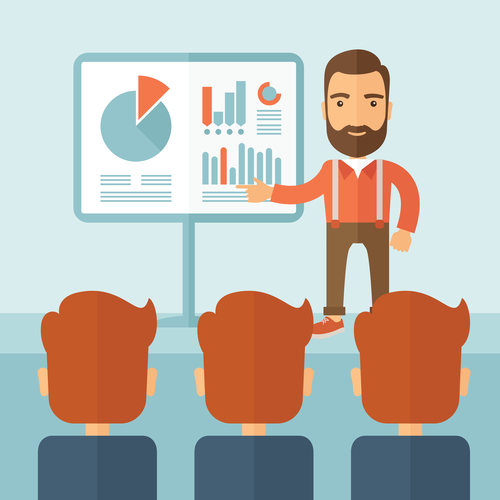 The CEO was wearing a polo shirt and he sat down in the middle of our big conference room. There were about 10 of us from the venture capital fund in the room with him.
The CEO didn't stand up like the other CEOs I'd seen present did. Instead, he stayed rooted like a plant to his chair.
Do you want to grow your business? Maybe I can help. Click here.
That was the first thing I noticed about the CEO of this long forgotten company. And no, he didn't get funding from us.
Then there was the CEO of an infamous solar power company (we had a big bet on solar, so we met with just about everyone in the space that was raising money). He was chewing gum and talking really fast.
I just remember thinking this guy is a real character who wouldn't be taken seriously, except that solar was a hot space back then.
Oh, then there was Josh James currently of Domo fame. When we met him, he was CEO of Omniture. Josh was looking to do a PIPE deal (private investment in public equity) with us.
What I remember most was Josh's presence. You could smell his success.
In short, you remember the CEO.
I can only speak for myself, but you can see the pattern. It's always about the CEO.
This should make sense because startups are always defined by you, the CEO. So, what are some practical things you should do if you're going to meet with investors?
A. Do your preparation before you meet with investors.
"Here's a slide I think might be good," the CEO said to us.
The CEO had just blown it. I mean completely blown it. We were sincerely interested in investing in the CEO's company
We liked the technology. We liked the engineering team. But the CEO was so unprepared that we couldn't move forward.
You should come to all your investor meetings rehearsed and prepared. Don't expect an investor to move forward with you unless you're prepared.
B. Arrive to your meetings at least 15 minutes early.
You never want to be late to an investor meeting. With traffic being what it is, you never know if you'll be delayed.
So plan on getting to your investor meetings 15 minutes early just in case. If you have to go a longer distance, you may want to increase your buffer.
Then set up your slide deck ahead of the investor(s) getting to the conference room. That way, you're prepped and ready to go.
C. You should always have a hard copy back up just in case.
My business partner, Cathal, and I had to fly out to New York to meet with some investors who were planning on investing about $80 million based on our recommendation. We had prepared a slide deck on your computer, plus we brought a thumb drive with the deck, and, just in case, we had hard copies of the presentation too.
We got to the investors office about 15 minutes early. To our horror, we couldn't connect either of our computers to the screens the investor had installed in the conference room.
Thank goodness we had the back up hard copy of the deck. We walked the investors through our pitch using the hard copies we had printed. The deal was closed a few days later.
D. You make your first impressions within seven seconds.
Stand up and extend your hand when an investor enters the room. Smile and look the investor(s) right in the eye. Oh and introduce yourself too.
This is simple stuff, but it goes a long way.
E. You should use the rule of four when you're presenting.
What's the rule of four? Easy. You should stand up if you are presenting to more than four people.
Remember my story of the CEO who was stuck to his seat and didn't get an investment? Exactly.
F. You should assume you have half the time you've been allotted for your pitch.
Let's say have a one hour time slot for an investor meeting. You should assume you only have thirty minutes for your pitch.
This gives you a fifteen minute buffer for Q&A, and a fifteen minute buffer just in case the investor is late. Then, assume you have about two minutes to present each slide. Thirty divided by two means you should have a maximum of 15 slides in your deck.
G. You need a backup slide deck too.
Nothing is better for your credibility if you can answer all the questions asked during the meeting. Now you should never make things up if you don't have the answer. It's always better to say you don't know if you don't know the answer.
However, wouldn't it be great if you did have the answer ready? That's where you backup slides come in handy.